Top 5 Super Bowl MVP Players
4× Super Bowl Champion (XXXVI, XXXVIII, XXXIX, XLIX)
3× Super Bowl MVP (XXXVI, XXXVIII, XLIX)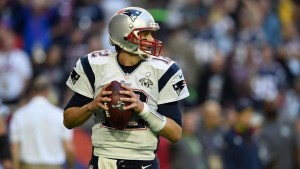 XXXVI 16 of 27 – 145 yards – 1 TDs – 0 INT – QB Rating 86.2
XXXVIII 32 of 48 – 354 yards – 3 TDs – 1 INT – QB Rating 100.5
XXXIX 23 of 33 – 236 yards – 2 TDs – 0 INT – QB Rating 110.2
XLIX 37 of 50 – 328 yards – 4 TDs – 2 INT – QB Rating 101.1
Whether you like, love, or hate New England, it doesn't matter. The fact is this, Tom Brady posts MVP numbers. Currently tied with Joe Montana's number of Super Bowl wins and Super Bowl MVPs, New England is looking to push for one more in February of 2016. Deflate Gate and New England's reputation for cheating aside, I wouldn't bet against Tom Brady. He is a far cry from Steve Grogan and the '86 Bears opponent.
Unfortunately for Tom Brady, not all Super Bowl appearances have him walking away with a 'W'. Though the Patriates have held one of the most successful dynasties in the NFL since 2000, they have a number of Super Bowl loses. Most notably in 2012, preventing the Patriates from keeping a perfect season.
Super Bowl champion (III)
Super Bowl III MVP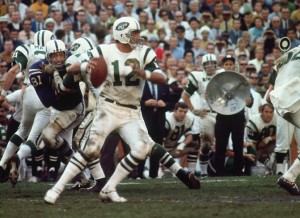 III 17 of 28 – 206 yards – 0 TDs – 0 INT – QB Rating 83.3
Why?! Why is Joe Namath always on a 'best of' list for anything? Quarterbacks, Super Bowl, MVP's, when he's posted these numbers? Barely over 200 yards passing, he put up zero points… because he guaranteed the win. No different than when Babe Ruth called his shot. It is a crazy mix of Arrogance, guts, and skill that incredibly few professional athletes are willing to bet their career on. Namath did it, delivered good to his word, and no one has done it since. That is why he's on this list. That's why he's on all the lists.
2× Super Bowl champion (I, II)
2× Super Bowl MVP (I, II)
I 16 of 23 – 250 yards – 2 TDs – 1 INT – QB Rating 116.2
II 13 of 24 – 202 yards – 1 TD – 0 INT – QB Rating 96.2
The guy that won MPV twice before Joe Namath, Bart Starr. Before he was winning the 1st two Super Bowls, he was Winning championships. The NFL we know today was just starting it's roots, and Bart Starr was paving the way.
4× Super Bowl Champion (IX, X, XIII, XIV)
2× Super Bowl MVP (XIII, XIV)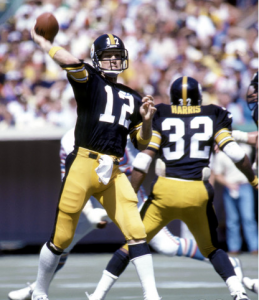 IX 9 of 14 – 96 yards – 1 TDs – 0 INT – QB Rating 108.0
X 9 of 19 – 209 yards – 2 TDs – 0 INT – QB Rating 122.5
XIII 17 of 30 – 318 yards – 4 TDs – 1 INT – QB Rating 119.2
XIV 14 of 21 – 309 yards – 2 TDs – 3 INT – QB Rating 101.9
In both Super Bowls X and XIV, Pittsburgh was trailing in the fourth quarter. Bradshaw led five total scoring drives in those games to secure a Steelers victory in each. Throwing a 61-yard touchdown bomb to Lynn Swann, winning Super Bowl X and again a 73-yard scoring strike to John Stallworth to secure the lead and win Super Bowl XIV.
4× Super Bowl champion (XVI, XIX, XXIII, XXIV)
3× Super Bowl MVP (XVI, XIX, XXIV)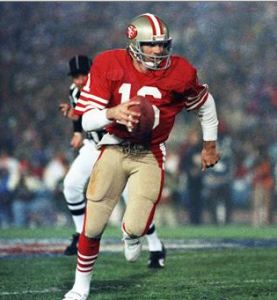 XVI 14 of 22 – 157 yards – 1 TDs – 0 INT – QB Rating 100.0
XIX 24 of 35 – 331 yards – 3 TDs – 0 INT – QB Rating 127.2
XXIII 23 of 36 – 357 yards – 2 TDs – 0 INT – QB Rating 115.2
XXIV 22 of 29 – 297 yards – 5 TDs – 0 INT – QB Rating 147.6
While Terry Bradshaw and the Steel Curtain ruled the 70's, Joe Montana and the 49ers were the dynasty of the 80's. With offensive weapons including Jerry Rice and Roger Craig, and Ronnie Lott on defense, the 49ers of the 1980's couldn't lose.
What puts Joe Montana above the other MPV's? Zero intercepts, zero losses, in four appearances.
Agree or disagree with this list? Think your favorite should have been included? Please leave your comments below!
Leave a Comment
comments