Top G1 Transformers
My personal list of Generation 1 Transformers Action Figures
One of the oldest (and toughest!) Autobots, Ironhide has been on Optimus Prime's team for a long time. I would say Ironhide is the exact opposite equal of Starscream. An equal for strength and an asset, however Ironhide is the doppleganger of Starscream's willingness to steal leadership of the Decepticons, he is Optimus Prime's right hand Autobot and has his back in any situation and without any reserve.
Gruff and ornery, he prefers actions to words, and dislikes talk for talk's sake. Though he may be rough around the edges, he's still optimistic and surprisingly upbeat. The upside to being through more than your share of trouble means trouble ain't so big a scare anymore.
Ironhide's most distinctive ability is the water gun, a weapon which can generate and shoot a liquid of virtually any type. While liquid nitrogen is historically the favorite, there have been acids, mortar, and plenty others.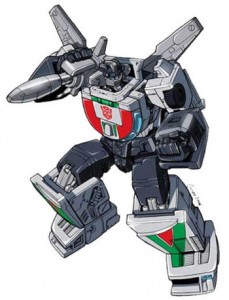 Wheeljack would run a modern day hackerspace! Something of a crackpot inventor meets mad scientist robot, sadly a number of his creations blow up in his face. A true citizen of Cybertron, his constant need to invent overly complex devices stems from his desire to improve the Autobots' tech. However, the results are simultaneously one of the Autobots' greatest assets and problems. For any successful gadget he builds, there's one which requires Ratchet or Hoist to put him (and often his lab) back together. Although every once in a while he strikes gold, which has won him respect, even from the Decepticons.
However Wheeljack is not a complete nerd! For as good as he is in the lab, he is just as amazing on the road. And while there are few stunts that he can not pull off, he loves to show off his driving skills as much as he does his inventions. When it comes to flying though, he is a little less confident. A flying Wheeljack you ask? This is accomplished using solid-fuel rocket jets in his forearms, of course.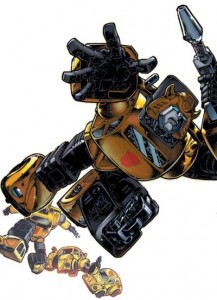 BumbleBee is the 'little brother' of the heroic or protagonistic Autobots and a mascot, constantly striving to prove himself in the eyes of the other robots – especially his leader, Optimus Prime. This often causes him to take risks that put him in danger. Although a bit of a smart aleck, he is a capable and reliable messenger and spy, his small size allowing him to go places that his larger commanders cannot. He is highly fuel-efficient, has great visual acuity, is particularly adaptable to undersea environments and transforms into a Saturn yellow Volkswagen Beetle.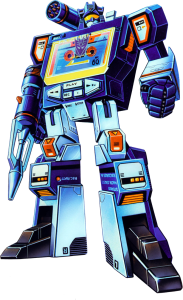 Easily one of the most recognizable characters, Soundwave has an alternate mode – a microcassette recorder – and possessed a distinctive monotone, computerized voice.
As Decepticon Communications Officer, Soundwave is able to detect and jam transmissions across the entire energy spectrum. Additionally, he has a photographic memory thanks to the vast data storage capacity of the magnetic disks in his chest compartment, and he is armed with a shoulder-mounted radio wave sensor and hand-held concussion blaster. Soundwave is physically strong compared to most Transformers. His alternative form, which involves an incredible loss of mass, is that of an Earthly microcassette deck. Within the tape compartment, which becomes his chest in robot mode, he stores a variety of Decepticon spies, all of which take the alternative form of a microcassette. The most common of these spy characters include Ravage, Laserbeak, Buzzsaw, Rumble, and Frenzy, all of whom are under Soundwave's command. Soundwave's cassettes are quick to serve and defend the Decepticons when in a crisis, and generally relate to him as servants or even pets.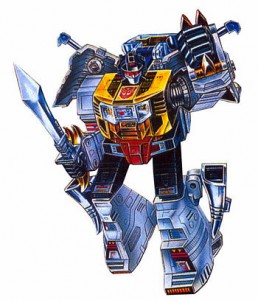 Grimlock is the leader of the Dinobots, a small but powerful strike squad. Grimlock himself is extremely strong and durable, and is one of the few Transformers who can not only stand toe-to-toe with Optimus Prime and Megatron, but actually give them a run for their money. Despite his strength and prowess, Grimlock continually struggles with his pronouns. When faced with a problem, his usual responses are to slice it with his energo-sword, tear it to pieces with his bare hands, or outright eat it, leading some Autobots wonder why if he is even on their side. His disposition is much more suited to the Decepticons. After all, he values power and strength over wisdom and compassion, and furthermore, he doesn't really get along with most Autobots.
What the Autobots don't realize is that the only thing he hates more than weakness is those who abuse their strength, meaning when push comes to shove, Grimlock will always fall in on the right side of the fence. And despite their disagreements, Grimlock holds a respect for Prime's strength and leadership.
3.) Optimus Prime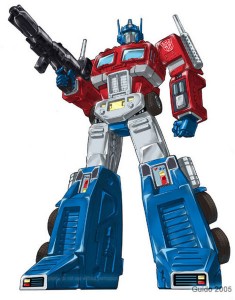 Optimus Prime is the remarkable-grand, all powerful, and compassionate leader of the Autobots and is consistently depicted as having strong moral character, excellent leadership, and sound decision-making skills.
Originally a working-class civilian of Cybertron, he eventually was chosen by the Matrix to command the Autobots. Additionally to his leadership skills, he is the moral opposite of his mortal enemy Megatron. Optimus Prime believes that "freedom is the right of all sentient beings", and proves this having fought for thousands of years against the Decepticons. Attempting to bring peace to the galaxy, the Autobots require a strong, charismatic leader who can lead by example.
Other than Megatron, there are few who can match Optimus Prime's battlefield skills. Armed with an ion blaster and his energon-axe weapons. Because of his size, Optimus Prime is easily the strongest of any Autobot, and what he lacks in raw firepower he easily augments with selflessness and bravery. Optimus would sacrifice his life to protect his fellow Autobots or those under his care. This compassion for other sentient beings has been his only constant weakness, and one the Decepticons have exploited time and time again… though ironically, it's also the source of his strength. A classic hero dilemma.
Possessing brilliant military tactics, powerful martial arts, and advanced alien weaponry. Prime also has a strong sense of honor as well as justice. Being dedicated to building peaceful and mutually beneficial co-existence with humans, the protection of life and liberty of all sentient beings.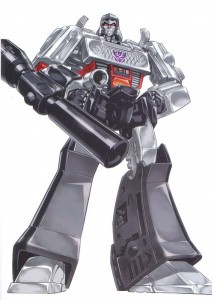 Megatron is the founder of the Decepticon uprising, and their most well-known and feared leader. As a young, charismatic leader forged in battle and the heritage of war, he began to believe in a grand purpose for his race—it is the Transformers' glorious destiny to rule an empire which will span the universe. The opposite of his mortal enemy Optimus Prime, he feels great contempt for other Transformers who, he feels, betray their proud heritage by demanding peace and cooperation with weaker life forms. It is the destiny of the Decepticons to bring order to the universe through conquest, though in the millions of years since coining this purpose it remains to be seen how much of his mission statement is altruistic… and how much of it is mere words built to fuel warriors to further his desire for personal power.
Megatron will attempt almost anything to achieve his goals, but his schemes are rarely in any way subtle. This is perhaps due to his arrogance, but his pride is not so strong as to dissuade him from abandoning a battle he is losing. Some would question his sanity, though these few are mostly now dead by his hands…or his Fusion cannon, depending on his mood. Sometimes he uses his energon mace to strike them down. It does not matter how they die. Death by the hands of Megatron is an honor.
On Earth, Megatron's Alternate mode is usually a modified Walther P38, which can be used by other Decepticons. His Fusion Cannon becomes the scope.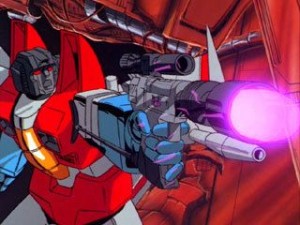 Once destroyed, Megatron is later reborn as Galvatron.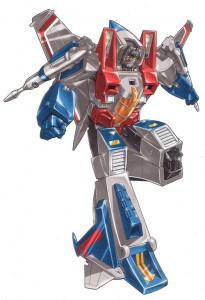 StarScream is by far my favorite Transformer. He is the most ruthless of the Deceptions, taking any chance to sucker-punch Megatron and steal the leadership. While he has controlled the Decepticons at times, he almost always suffers defeat. More intelligent than average Decepticons, StarScream also, unlikely to act directly on his aspirations without first securing conditions favorable to his ascension. He considers himself vastly superior to other Decepticons and finds Megatron contemptible for his antiquated military strategies and tactics.
In the original cartoon series, StarScream was voiced by Christopher Charles Collins, also known as Chris Latta, whom also voiced Cobra Commander.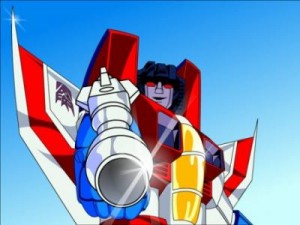 Agree or disagree with this list? Think your favorite should have been included? Please leave your comments below!
Leave a Comment
comments