Top NFL players that never went to the super bowl
With Super Bowl 50 approaching…
Despite the awards & accolades, the following list of great players, all of whom are in the Pro Football Hall of Fame, have not played in a Super Bowl.
Cleveland Browns 1978 to 1990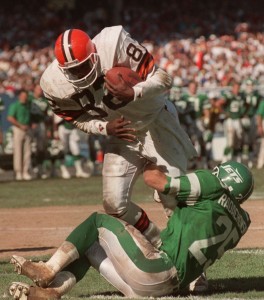 3× Pro Bowl selection (1981, 1984, 1985)
1999 Pro Football Hall of Fame Inductee
Starting his pro football career, Ozzie Newsome was the 23rd pick in the 1978 NFL Draft. By the end of his first season he had earned Offensive Player of the Year his rookie year. This was the first time in 25 years that a rookie had received that honor for the Cleveland Browns. He would also be picked for the Pro Bowl in 1981, 1984 & 1985. During the 1984 season, Ozzie Newsome set a franchise record for receiving yards in a single game (at 191). That record stood for 29 years until it was broken in 2013 by Josh Gordon. In 1986, Newsome won the Ed Block Courage Award for playing with injuries, and in 1990 won the Byron "Whizzer" White NFL Man of the Year Award for his community service.
Ozzie Newsome was part of an incredibly potent offense. The 1980's Cleveland Browns would move onto the post season in 1980, 1982, 1985, 1986, 1987, 1988, & 1989. However little success got them past the first round. Perhaps one of the best known endings is when John Elway lead the Denver Broncos in a come from behind 4th quarter score known as "the drive". Despite the 1980's Cleveland Browns best success & though Ozzie Newsome is a Hall of Fame Inductee, he's never made a Super Bowl Appearance.
Here is a fun fact, Ozzie Newsome did not miss a game in his 13-year NFL career. Though none of those games were Super Bowls, he played in 198 consecutive games, 191 starts, all for the Browns.
Chicago Bears 1965 to 1973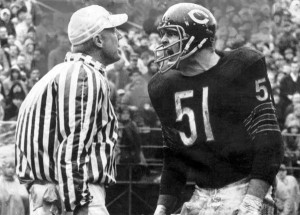 8× Pro Bowl selection (1965, 1966, 1967, 1968, 1969, 1970, 1971, 1972)
1979 Pro Football Hall of Fame inductee
Rated #10 NFL Player of all-time by NFL.com
Unfortunately for Dick Butkus, he played during some of the worst years for the Chicago Bears. Having only played for 9 seasons, he is also widely regarded as one of the best linebackers of all time. In his rookie season, he led the Bears in tackles, interceptions, forced fumbles, & fumble recoveries. Additionally he would regularly led the team in these categories throughout his short career. He was forced to retire after multiple knee injuries in 1973.
During his 9 years with the Chicago Bears, Dick Butkus was one of the most feared players. Not just for Chicago Bears, but of his era. He even appeared on the cover of Sports Illustrated in 1970 with a caption that read "The Most Feared Man in the Game."
Houston Oilers 1978 to 1984
New Orleans Saints 1984 to 1985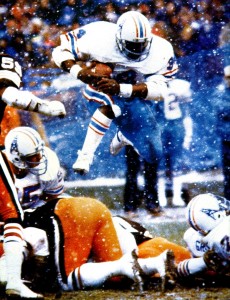 5× Pro Bowl selection (1978, 1979, 1980, 1981, 1983)
3× NFL Rushing champion (1978, 1979, 1980)
2× NFL rushing touchdowns leader (1979, 1980)
1978 NFL Offensive Rookie of the Year
1991 Pro Football Hall of Fame inductee
Rated #55 NFL Player of all-time by NFL.com
Like Ozzie Newsome, Earl Campbell was selected as Offensive Rookie of the year. Campbell possessed a rare combination of speed and power. On paper, his best single-season performance was in 1979 when earned All-Pro, Pro Bowl, & NFL Offensive Player of the Year honors. It was also the 2nd of 3 consecutive seasons in which he led the league in rushing. Previously only Jim Brown had accomplished that feat. Earl Campbell finished his career with 9,407 yards and 74 touchdowns. His single-season record of rushing yards was accomplished in 1980, when he ran for 1,934 yards including four 200-yard rushing games. Defenses would play stacked in an attempt to shut down Campbell, but he still managed to average 5.2 yards per carry.
With Campbell's success, the Oilers were able to land the wild-card position & make the playoffs in 1978, 1979, & 1980. In 1978 they were able to advance past Miami, however they lost to the Steelers 34 to 5. The following year they were able to advance past San Diego (see below Dan Fouts), & were again beaten by Pittsburgh 27 to 13. 1980 would be Earl Campbell's final play off appearance, where they lost to Oakland, 27 to 7 in the first round.
San Diego Chargers 1973 to 1987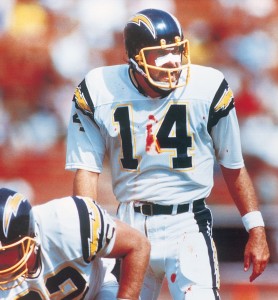 6× Pro Bowl (1979, 1980, 1981, 1982, 1983, 1985)
1993 Pro Football Hall of Fame
Dan Fouts was drafted in the third round in 1973. He helped turn around the failing San Diego Chargers, & lead them to the playoffs from 1979 to 1982. Twice they were able to make it to the AFC divisional title game. Additionally, 4 times Dan lead the league in passing yards; ending his career with over 40,000 yards. Fouts was elected to the Pro Football Hall of Fame in 1993.
Six times Dan Fouts was selected to the Pro Bowl & compiled passer ratings over 90.0 for a 3-year stretch from 1981 to 1983. He was also the first NFL player to surpass 4,000 passing yards in three consecutive seasons, from 1979 to 1981, & led the NFL in passing yards in four consecutive seasons, from 1979 to 1982. Six times he eclipsed the 20-touchdown mark, & achieved a career high 33 in 1981. His career high of 4,802 passing yards during the 1981 season was at the time an NFL record.
Despite all of Fouts' success, poor defense & a practically non-existent running offense were blamed for a lack of overall team success. Going to the playoffs from 1979 through 1982 & playing in 2 AFC Championship Games, the Chargers however never went to the Super Bowl under Fouts. However they did reach the Super Bowl 7 years after his retirement.
Seattle Seahawks 1976 to 1989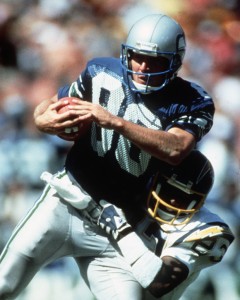 7× Pro Bowl selection (1978, 1979, 1981, 1984, 1985, 1986, 1987)
1995 Pro Football Hall of Fame
Despite being an All-American at the University of Tulsa, Steve Largent was not selected until the fourth round of the 1976 NFL draft. A little known fact, that his draft select was actually by the Houston Oilers. The decision to cut Steve Largent was made after four preseason games, however he was instead traded to the expansion Seattle Seahawks for a 1977 eighth-round pick.
After 13 years in the NFL, when Largent retired, he held all major NFL receiving records. This would include: most receptions in a career (819), most receiving yards in a career (13,089), & most touchdown receptions (100). At the time he also held possession of a record streak 177 consecutive regular-season games with a reception. Steve Largent also holds the distinction as the first receiver in NFL history to achieve 100 touchdown receptions in his career.
As Seattle slowly built their expansion team, they acquired a number of talent players. David Craig at Quarter Back, & Curt Warner at Running Back. 1983 was their first, & best, post season appearance with Steve Largent. The Seattle Seahawks were able to win against the Denver Broncos & the Miami Dolphins. However they would lose the AFC Divisional Title game to the Los Angelis Raiders 30 to 14. The Seahawks would return the following year & defeat the Raiders 13 to 7, however they would fall in the next game to the Miami Dolphins 31 to 10. Steve Largent would make two more playoff appearances with the Seahawks, in 1987 & 1988, however they would loose the first game each year to the Houston Oilers & the Cincinnati Bengals.
Los Angeles Rams 1983 to 1987
Indianapolis Colts 1987 to 1991
Los Angeles Raiders 1992
Atlanta Falcons 1993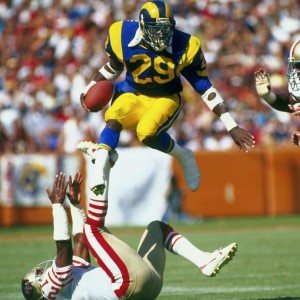 Remember the U.S.F.L.? All the great players that entered into that league. While Eric Dickerson had considered going to the Los Angeles Express, he would instead decided to go into the NFL. In 1983 he was selected second overall in the Draft by the Los Angeles Rams where he was an immediate success. He established rookie records for most rushing attempts (390), most rushing yards gained (1,808) & most touchdowns rushing (18). These achievements earned him All-Pro, Pro Bowl, Player of the Year and Rookie of the Year honors.
In his second season, Dickerson's success continued, & he found himself becoming a member of the 2000 rushing yards club. In the 1984 season, Eric Dickerson was able to achieve 100+ yards rushing in 12 games, breaking the record held by O. J. Simpson. His 2,105 total yards rushing beat Simpson's 1973 NFL season record, however this is looked at with some degree of controversy since the NFL expanded the regular season from 14 to 16 games in 1978. Be that as it may, no one has since broken this record of 12 games of 100+ rushing yards.
With Dickerson in the back field, the Rams were able to reach the playoffs in 1984 & 1985. However they would lose to the New York Giants in 1984, & the Dallas Cowboys in 1985.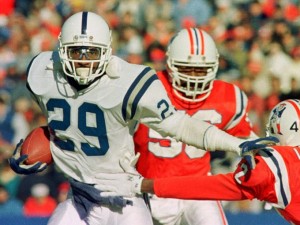 Unable to reach an contract agreement with the Rams, Eric Dickerson would get traded to the Indianapolis Colts after 3 games in the 1987 season. Although he played in just nine games with the Colts that year, he still managed to gain over one thousand yards (1,011). Additionally, his offensive presence helped a late season Colts run that would land the team both their first winning season, &amp their first playoff berth in 10 years. Thought they were able to win their division, they would lose the Divisional Playoff game to the Cleveland Browns, 38 to 21. This would be Eric Dickerson's only playoff appearance with the Indianapolis Colts.
6× Pro Bowl selection (1983, 1984, 1986, 1987, 1988, 1989)
4× NFL Rushing champion (1983, 1984, 1986, 1988)
1999 Pro Football Hall of Fame
Detroit Lions 1989 to 1998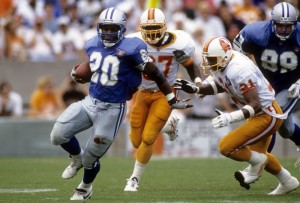 10× Pro Bowl (1989, 1990, 1991, 1992, 1993, 1994, 1995, 1996, 1997, 1998)
4× NFL Rushing champion (1990, 1994, 1996, 1997)
2004 Pro Football Hall of Fame
Rated #17 NFL Player of all-time by NFL.com
In 1989, the Detroit Lions selected Barry Sanders with the 3rd overall pick in the first round of the draft. He was offered jersey #20 which had been worn by former Lions greats Lem Barney and Billy Sims.
Barry Sanders was the featured running back on the Detroit Lion team, making the playoffs five times during the 1990s (1991, 1993, 1994, 1995, & 1997). In 1991 the Detroit Lions won 12 games, currently a record for the team. Though they won the NFC Central division title in 1991 & 1993, they were unable to beat the competition & make a Super Bowl appearance.
Do you agree with our list of players that did not make the Super Bowl? Please feel free to leave comments or suggestions!
Enjoy Super Bowl 50! Leave a Comment
comments